In need of some stunning home inspiration?! Look no further!
We recently caught up with Laura - a lady of great home interior taste who makes new build homes less boring with unique interiors infused with her love of colour and Danish designs on a budget! Laura's Instagram is full of home pictures, mood boards and sources, all reflecting her love for interior design.
Get to know more about Laura from our recent Q&A!
Tell us a bit about you
My name is Laura and I am a 31 year old Personal Assistant and Floral Stylist currently living in Bristol.
Tell us a bit about your shared ownership home
I first found out about shared ownership through Facebook. After seeing an advert on social media I clicked through to the Sovereign website to do some research, and happened to find my perfect home in the perfect area. It felt like fate!
What type of house do you have?
I have a lovely two bedroom end of terrace house in Stoke Gifford, Bristol. It is an Ashton type house with two parking spaces and a great garden!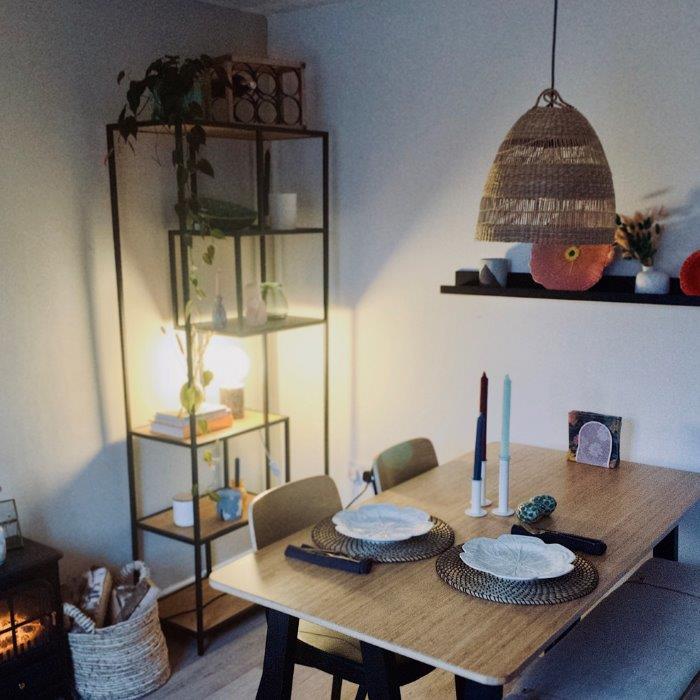 What made you want this home in particular?
After renting for so many years in a flat, I longed for a house with a garden, so this house was the perfect fit. Being a new build home, I loved that it was a blank canvas and all brand new - it allowed me to really put my stamp on the place as I love interiors! Both bedrooms are also really spacious which was great for when guests stay.
Location was also a bonus - I love how close it is to the city centre which is just a 10-15 minute drive away!
Tell us a bit about your shared ownership journey - what made you want to go for shared ownership?
I have always wanted to own my own home and was determined to make that happen.
Following a recent break up I started looking at options immediately so that I could get my own place. I knew that with one salary it was going to be hard to get the kind of thing I wanted, but I had big aspirations.
My family really loved the idea of shared ownership and after finding this home on your website, my family thought it would be the perfect first home for me to get onto the property ladder. For someone going solo, I always felt supported through each stage of the process and it made it easy and simple. I had constant contact with the same person which made the application process go so smoothly.
How would you describe the process of applying for shared ownership?
The process was really straight forward! I saw the advert and at that point had already submitted a 'Help to Buy' application, so it was just the case of finding the perfect home.
I submitted my interest and then proceeded with the new steps very quickly - quicker than I had expected! At first, the ease and simplicity of the application process took me by surprise but at the same time made me even more excited.
I will never forget the day I received a call from Sovereign to say I'd been shortlisted and chosen for my plot. It made me really emotional as this had been such a crazy year for me but everything fell into place!
How long did it take to purchase your home from reservation to getting the keys?
I started the application in the November and by January I had exchanged!
I moved in slightly later than planned as there was about a month delay due to it not being 100% ready, but by the middle of May 2018 I had the keys and was through the door getting my carpets fitted and flooring done. It's a day I'll always remember!
How do you feel now you're in your home?
When I first moved in I was so excited, especially to do some painting as this wasn't something I had ever done in a property!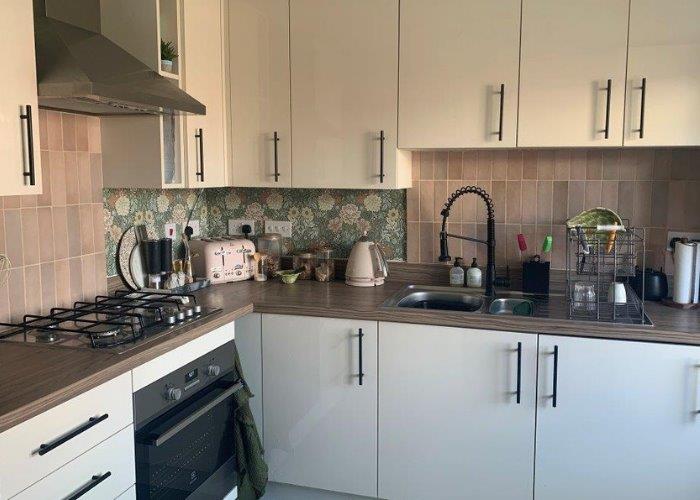 How would you describe your home style?
I would say my style is my own - I try not to follow too many trends but take ideas from those trends and pick out what I like from them! I love Danish design and was really inspired when I visited Copenhagen. Their use of calm tones with pops of bold colour really work for me.
What's your favourite room in your home and why?
My favourite room has got to be my living room. It's my most used room in the house and it acts as my dining room as well, so it has to work on so many levels for different situations of entertaining and relaxing.
It took me a while to know how I wanted to live in this room and I moved the furniture around a lot! I have created it so that it is a cosy living room area that's sumptuous and dark. For the rest of the room I have created a calming tone and used natural textures and materials so it offers a real homely feel to be in. It's definitely perfect for relaxing in after a hard days work!
Even better, it looks out to the south facing garden which makes this room the sunniest part of the house.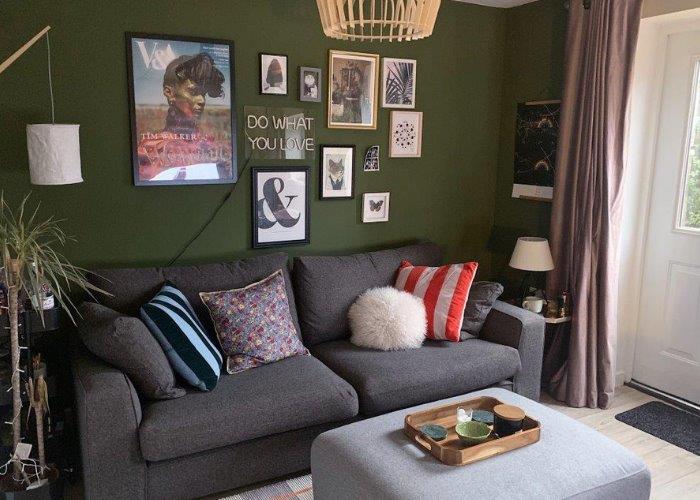 What's your top tip for making a house a home?
Take your time with big purchases like furniture.
When I first moved in I made some hasty purchases that after a year or two didn't work for me anymore, so I would definitely recommend taking your time with decisions for each room. Even now two years later, I still change walls and rejig rooms, but that's part of making it your own and making it work for you.
What's your favourite shop for homeware?
H&M home is really bringing it's A-game at the moment - It has a great aesthetic and is really well priced.
My other love is Habitat and Arket. They have some really wonderful items and their tableware is on point! I take a lot of my inspiration from high end shops like Liberty of London & HAY design and see if I can find similar pieces in high street stores to suit my budget, sometimes I do treat myself as it's nice to have some key design features! Some of the best pieces I have collected are from travelling to places like Copenhagen & Lisbon...they also mean so much more as they come with a story!
Follow Laura on Instagram for more design ideas - @Lauramckenziecam_home
FAQs
We partner with you to share the cost of buying your own home – you pay for the part you can afford and we'll pay for the part that's left. It's an opportunity to buy the home that's right for you without needing the large deposit or the mortgage that goes with it.
Find out more
You buy a share in your home that's right for you. That could be from 25% up to 75% initially. You'll pay a reduced rent to us on the share we own and a monthly service charge.
As your finances allow, you can buy further shares in your home as and when you choose, meaning you'll own more and pay less rent.
Typically, you'll only need a deposit that is 5% of the value of your share, rather than of the total property value, meaning you could get moving sooner than you thought.