Meet Paige
Paige, a 24-year-old Service Delivery Manager from Poole, never thought she'd be able to own a home at such a young age. Shared Ownership enabled Paige, a first-time buyer, to step onto the property ladder at Sovereign's Potters Grove development in Poole.
How did it start?
After moving away from Poole at 18 to pursue a career in IT, Paige had been privately renting for years. During the pandemic, Paige left private renting behind, moving back home to Poole and in with her parents. Paige had a clear ambition: she wanted to save enough money so that she could invest in her own future. She explained, "I had a goal that I wanted to save at least 50% of my income and the only real way I was going to be able to do that was to move home."
The buying journey
As a first-time buyer, it's easy to feel overwhelmed having to manage the logistics and paperwork of buying a home. When asked about her experience of the application process, Paige explained how straightforward it was and recalls the whole process being "quite simple."
"I registered on the Sovereign website to let them know that I was interested in a property. I then contacted a financial advisor and they confirmed to Sovereign that I had the income I would need to have a shared ownership property. I was then able to reserve my property and I spoke to a solicitor from the panel that Sovereign provide which kickstarted my journey to buying."
Potters Grove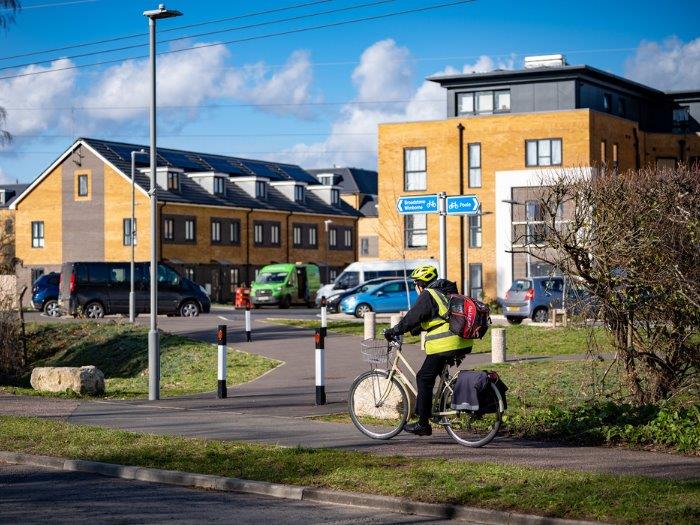 "Potters Grove is in a really lovely location," Paige explains. She regularly grabs a morning coffee, walks into the village, and grabs any bits and pieces she needs from the shops.
Situated just 5 miles from Poole town centre and 6 miles from Sandbanks, the proximity is a huge selling point; it's one of the reasons Paige was interested in the development. She explains, "Living by the sea is such an amazing experience. I'm able to just jump in my car, drive down, go for a walk on the beach and breathe in the fresh air."
"The community at Potters Grove is really starting to develop. There's quite a few new people who've moved in recently and I'm sure there's going to be more in the coming months."
The best thing about a new build
In response to a question about her new home, Paige explained that her favourite aspect was the design and layout. "I really love my new home, especially because it's open-plan and a really sociable space for me to spend time with my friends and family."
Since moving in, Paige has been settling in and transforming her house into a home. She's managed to save money by up-cycling second-hand furniture; she has plans to add a splash of colour to the walls once she's decided on a colour.
Paige is also using the flexibility of the second bedroom to suit the needs of her current lifestyle. She explains, "I turned the second bedroom into my office. I had originally planned to use it as both a spare bedroom and office but knew that having a dedicated space for my work was really important to me."
Initially, Paige was worried about managing the bills, especially living on her own. She said, "I have found that the bills have been a lot lower living in a new build. I think it's because it's really well insulated and I don't have to put the heating on as much as I would in an older property."
Why Shared Ownership?
Shared Ownership is an enablement opportunity for all helping alleviate affordability barriers that are common in the open market. Paige firmly believes that buying with this scheme was one of the best decisions made. Aside from living in a modern apartment in a fantastic location, she is now firmly on the property ladder.
"I would encourage people to consider buying a home through Shared Ownership because it has given me the opportunity that I wouldn't have had if I was looking on the open market and it has enabled me to own a home much younger than I would have anticipated."
Paige expressed her gratitude towards Shared Ownership when asked if she would recommend it to others who were considering moving. "If someone's looking to buy Shared Ownership through Sovereign and was nervous to do so, I'd tell them to just go ahead and do it. It's been one of the best experiences and I had so much support from Sovereign through the sales process to moving in and answering any questions I had."
Buying through Shared Ownership has given Paige security, freedom, and stability. "I know I'm going to be very happy here for years to come."