First things first once you've moved in – and that's to celebrate! Take time to relax, put your feet up and enjoy a well-deserved takeaway.
After you've put the kettle on, introduced yourself to your neighbours and taken the time to become familiar with your new surroundings, you might be wondering what comes next in the final steps of your moving journey.
That's why we've put together a few of our top tips and resources to help guide you through the final steps of your house moving journey, making it as smooth and stress-free as possible.
Make your house a home
While it can take some time to settle into your new property, there are a variety of simple actions you can take to put a personal touch on your home and bring your rooms to life.
Decorating on a budget
One of the best benefits to owning a shared ownership home is being able to decorate as you wish! Now that you've moved into your very own shared ownership home it's time to put your own personal touch on it.
From painting the walls your favourite colour to hanging up your favourite photos, there are plenty of ways to make your interior goals a reality with the help of some bargain hunting. Some of our best tips include:
Repaint and upcycle furniture – Keep costs down when it comes to furnishing your home by making the most of your existing furniture! Save a fortune on buying brand new items and instead invest in paint of your choice to decorate those existing chairs and tables. Whether you're looking for bold colours to make a statement or pastel colours to give a fresh feel, get the look you want without breaking the bank. Read our home interior article for new ideas and styling tips if you're a little stuck for where to look for inspiration.
Save on space – Accessorize your new home without cluttering it by investing in multi-purpose items if you have money spare. For example, furniture such as beds or hallway benches can also come with built-in storage, which are perfect for storing away clothes and everyday objects. Take a look at other ways to jazz up your home without breaking the bank in our article here.
Add some greenery – Give instant colour and life to your home with the help of indoor plants. From traditional green colours to bright yellows or reds, any type of plant will breathe life into your new home and provides an instant fresh and characteristic feel. Whilst live plants are believed to be good for health and clean the indoor air, they can sometimes be hard to maintain. If this is the case for you, then consider investing in artificial plants which give the same look and also save money in the long run!
Think and plan ahead
Avoid unexpected costs or problems in the months after moving into your new home with the help of some useful resources. Here are some of our favourites –
Keep track of your new budget – A new home often comes with new prices on bills such as council tax and broadband. As you settle into your new home it's worthwhile using a budget planner to track your new outgoings and how much disposable income you have spare each month.
Password security websites – Moving home can involve setting up new accounts for services such as broadband and utility companies. Prevent yourself from being vulnerable to identify theft with the help of password security websites such as LastPass and Google Password Manager designed to keep your personal information safe simply and securely.
Create a new house checklist – To set the next chapter in your new home off to a successful start it's worthwhile creating a new house checklist to avoid missing any important tasks you may need to consider. Some of the main tasks to sort swiftly after your move include -
Getting your utilities up and running
Setting up your broadband and phoneline
Opening any new direct debits
Check what time of the week bins are collected
Paying your council tax
Inspecting your surroundings and reporting any defects
Secure your new home with items such as locks and alarms
Registering with your local dentist and doctor surgery if you have moved a considerable distance away
Creating a monthly budget to track your monthly outgoings and how much estimated disposable income you will have spare.
Download your free checklist here.
The future of your shared ownership home
Throughout the years in your new home you may wish to buy more shares and own more of your property. For others, you may fancy a change of scenery and wish to sell your home. Either way we're here to help!
Buying more shares in your home
If you purchased your home through shared ownership, then you may wish to purchase more shares in your home as and when your finances allow.
The benefits of owning more shares
Many shared ownership properties give you the option to staircase and buy more shares over time, with most homes allowing you to own up to 100%.
This comes with many benefits including –
Reducing the amount of rent you pay to your housing association.
If you decide to sell your home in the future, the more shares you own will lead to more profit if the value of your home has increased.
In most cases, if you own 100% of your home you can sell it on the open market and benefit from any profit made.
The process of purchasing more shares
There are five main steps to follow when staircasing which are highlighted in the infographic below. There are also two options available depending on your personal preference – you can either buy additional shares in stages or buy all of the remaining shares in your home if your lease allows.
Download our guide to staircasing to get information on the five steps in more detail.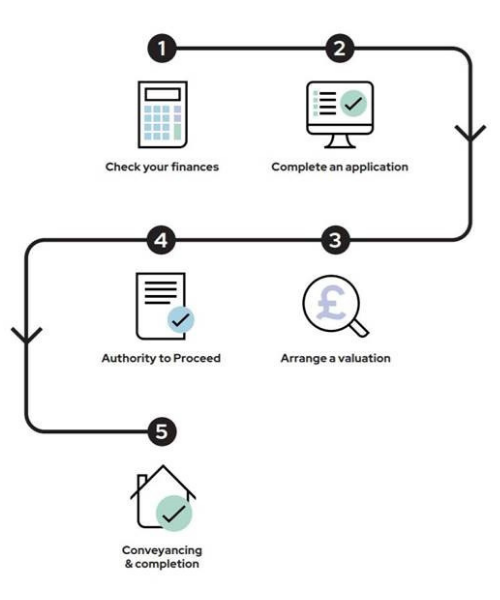 Sell your existing home
When you're ready to sell and move on we can help sell your share to someone looking for a home like yours with shared ownership.
A typical shared ownership sale usually follows the below steps
Getting ready to sell
Property checks
Advertising your home
Arranging viewings
Finding a buyer
To read these typical steps in more detail read our article on selling your home to help you understand what a sale might look like.
Your perfect property partner
Whatever the future holds for you and your new home, we're here to help at every step of your journey. Contact us by phone, email or online at any point to discuss how we can help you to live in a home you love.
In the meantime, we wish you all the best in your new home and future!