As we move into a new month and say goodbye to Planuary we've caught up with home-décor enthusiast Laura to talk about her own experience moving into her very first shared ownership home in Bristol.
Laura takes us through her journey from start to finish, giving us some top tips and advice for your future house move!
How Laura planned for her move
What was important to you when looking for a home?
When I started my house hunt, I made a list of everything I wanted to find in a home. I researched locations and the types of properties I would consider and noted it all down in a checklist. I knew I wanted a house over an apartment, mainly because I knew I would have to consider a service charge on top of all my other bills, so a house would suit me and my finances better. My home had to be close to transport links as I work in the city and often socialise in the city - so I needed to be able to get about easy. And, as I travel a lot I have friends all over the place, so I also wanted to be near the motorway so I could visit them easily!
For me, parking was also a must as these days that's like gold dust – especially in my area. And finally, I wanted to ensure I felt safe too as I was buying my house alone. It's quite daunting moving home so I did a few visits at night and at different times in the day to make sure I felt safe.
When I saw my home advertised through Sovereign, it had everything I wanted. Two parking spaces, a garden, on the outskirts of Bristol but close enough to the action with a motorway close by – and it was an end of terrace house – tick, tick, tick!
All about the process of moving home
Is there any advice you wish you had been given when planning to move home?
Be super thorough with everything you do; I got my family to check over any paperwork I sent to my solicitors and mortgage company. I also got a filing box to make sure I kept everything safe!
I scanned everything using Genius Scan which is a great app that you can get on your phone. This meant that I had a digital copy of everything and was able to send things signed to anyone whilst I was out at work or not at home.
How did you prepare for the application and moving process?
I had already registered with Help to Buy so it was just a case of being really on it with contacting and pushing people at every stage. You don't want anything holding you up so be really alert!
I set my solicitor as a VIP on my phone, so I never missed anything from them! As soon as I was asked for copies of proof, I had already scanned this into my phone ready to send across so preparing in advance made the process so much smoother. Some requirements you can look up online which will prepare you for what you will probably need copies of, but as an example you might need proof of address, proof of deposit and identification.
I was also really lucky to bump into my new neighbour at the beginning of the process when doing a visit, so we swapped numbers and advised each other throughout the process to and check that we were doing the right thing with each other. It made the process seem a lot less daunting knowing another person is going through the same thing!
What the lead up to moving day looked like for Laura
What tasks did you prioritise in the lead up to moving day?
I had a bit of time between moving out of my flat and waiting to exchange on my new home. Luckily, I had a friend with an empty garage so I stored all my belongings in there before I could move. This was super helpful and saved me a lot of money - storage is expensive so it's beneficial if you can find an alternative to paying for a storage container. I found that seeking advice and talking to friends and family helped as you might be recommended which eases the stress.
I am a super organised person in day to day life because of my job so I thrived in this environment prepping and planning! Some of my priority tasks included –
Keeping a calendar with all your important dates in.
Closing all of my bills down and giving my readings when I left.
Made sure that I had changed my address on accounts early in the process to my family members, so I didn't get anything mis-sent!
I had already sorted which carpets I would like before moving. Sovereign and my solicitors helped to arrange a visit to the property to measure up and fit my carpets before I exchanged.
How far in advance did you start preparing for your house move?
Being a natural organiser, I had to start preparing quite early on.
I ordered my sofa about 3 months before and probably started really counting down the days and organising things properly about a month before I was due to exchange. This was then delayed a month so I had to then also juggle moving things around. I would definitely advise any house movers to stay on top of their communications - you don't want someone turning up with your fridge the day before you can move in!
Also, I took any opportunity to visit the property to take lots of pictures and measurements. This meant that I could start ordering things which really helped on moving day as I could secure the house with curtains and blinds etc. I tried saving as much money as possible for when I moved in as I knew there would be a lot to buy and I was right!
All about the big day!
How did moving day look like for you?
It was an interesting day as I was juggling living an hour away and then had small delays in the exchange date - so be prepared to be told short notice of the situation! My storage was only down the road from my new home, so I got my removal company to head straight there and start moving things over. My family helped me set up home and stayed the night after a few celebratory champagnes!
How did it feel to move into your very own shared ownership home?
I must admit I was really nervous about the moving in part. Wondering how I would feel in a whole new place that's mine - it felt overwhelming as I felt like a full-blown adult!
I loved moving things around, and I got onto painting some rooms sharpish as the house was a blank canvas to start with. Me and my mum found it really fun unpacking and finding homes for everything, she was more excited than me I think!
Overall, it was exciting more than anything! I don't think there is a better feeling waking up in the house that you have bought. I loved having an excuse to go shopping with my mum too - we always had a reason to pop out to look at home accessories and little bits and bobs that I needed. I could not wait to have a big party celebration, so I got all my favourite people round for a garden party and it was just so surreal.
I also love having people over to stay - being a host is the best part! I love having family and friends stay the weekend and we can explore the area.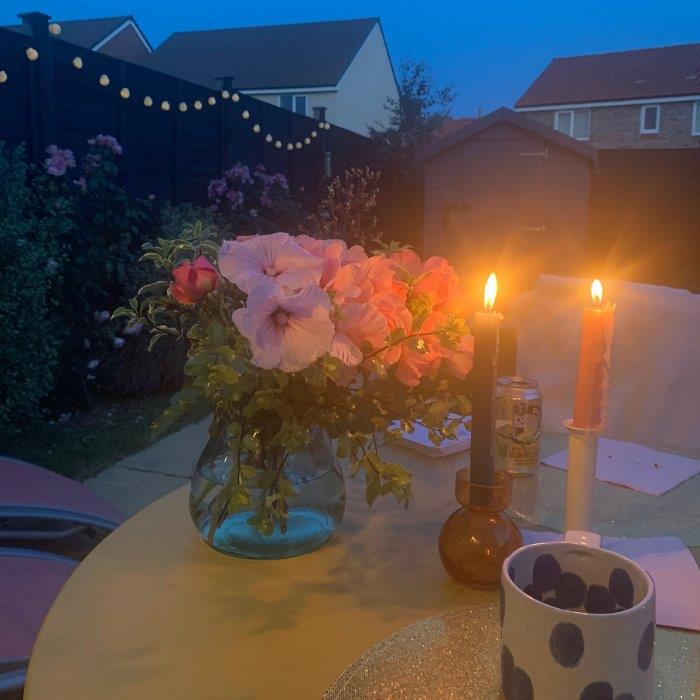 An insight into what happens after moving day
Have you thought about the future in your new home?
At the moment I am enjoying just living in my home and making small changes to make it feel personal to me. I may move in the next few years, but I love the fact that it's got me onto the ladder and helped me enjoy being an independent woman! For me it suits me perfectly as I think I picked somewhere I could grow into.
I am much braver about getting tradespeople out to quote on things and see if things are possible compared to when I first moved in, I was probably a little nervous to change anything. Now I've learnt to tile my own kitchen, wallpapered, painted and built endless furniture!
Before my kitchen makeover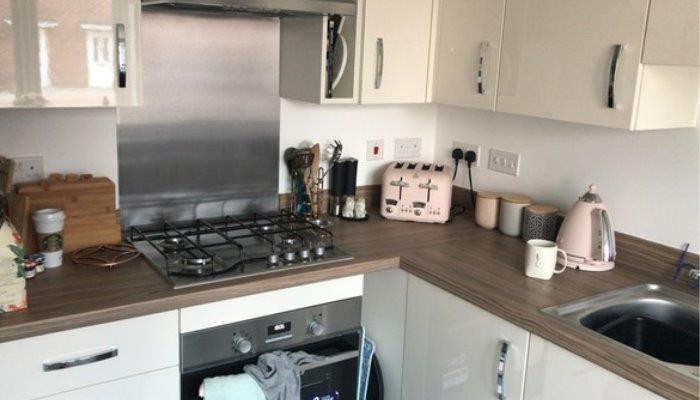 After my kitchen makeover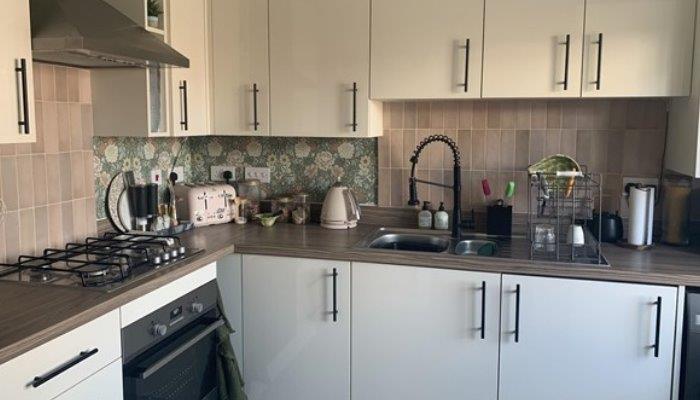 How did you make your house feel like a home once moving in?
To me this is the most important part - making a house a home!
Trying to add more character to a new build home can take a bit of trial and error but I think the braver you get the more homely it becomes. I followed lots of amazing maximalist Instagram accounts and took ideas that didn't cost the earth to implement, and really went from there.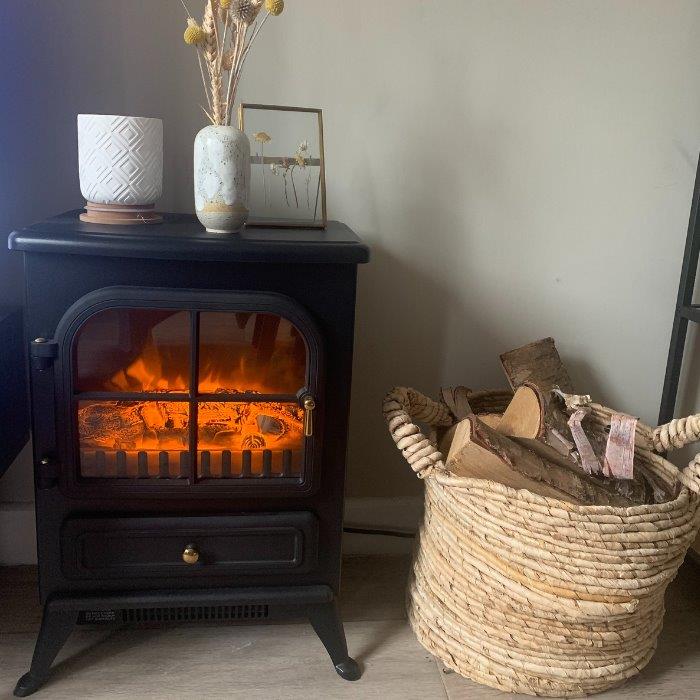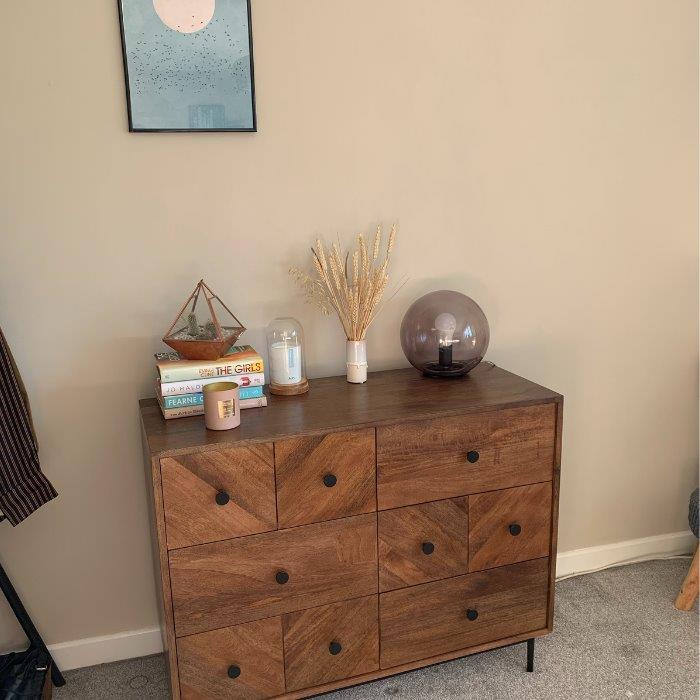 I love pattern and colour, so adding those elements to each room made me feel cosy. Plants are great for adding natural calm to a room, small changes like changing the kitchen tap, handles and tiling the kitchen for example now feels way more me than the blank canvas it was before!
Everyone is individual. I loved painting my living room as it felt like the space I spent most of my time relaxing in, so I wanted it to really make a statement.
There's still more I'm always thinking about, but I think take your time as you don't want to regret and re-do! I see my home as a constant work in progress and I will never ever be finished. All my friends know me for being completely interior obsessed – I just love updating and changing it!
Did you miss out on Planuary?
It's never too late to start saving those extra pennies and preparing for your moving journey! Click on the links below to read more on each stage of the moving process and start looking forward to the future in your new home.
FAQs
We partner with you to share the cost of buying your own home – you pay for the part you can afford and we'll pay for the part that's left. It's an opportunity to buy the home that's right for you without needing the large deposit or the mortgage that goes with it.
Find out more
As long as you are over 18
Your household income is less than £80,000
And you don't already own a home at the time of buying your shared ownership property

… then shared ownership could be right for you
Some properties may be bound by local connection restrictions in order to make them affordable for local customers. We'll let you know if there are any restrictions in place when you are searching for a property.
You buy a share in your home that's right for you. That could be from 25% up to 75% initially. You'll pay a reduced rent to us on the share we own and a monthly service charge.
As your finances allow, you can buy further shares in your home as and when you choose, meaning you'll own more and pay less rent.
Typically, you'll only need a deposit that is 5% of the value of your share, rather than of the total property value, meaning you could get moving sooner than you thought.
A deposit for a shared ownership home can start from just 5% of the share value you're looking to buy. So for example:
If you're looking to buy a home that has a 40% share value of £80,000, then your deposit could be as little as £4,000 - meaning you may be able to get on the property ladder sooner than first thought!
You can speak to our panel of financial advisors for more information around affordability.